Alcatel-Lucent OmniSwitch
The Alcatel-Lucent OmniSwitch® Stackable Fast Ethernet and Gigabit Ethernet LAN value switch family offers versatile, 24/48-port fix ed configuration switches with 10 GigE uplinks and provides upgrade paths for 10 Gigabit Ethernet (GigE) stacking, 10 GigE uplinks, and metro Ethernet services.
Promoting a design optimized for flexibility, scalability, and low power consumption, the OmniSwitch is an outstanding edge solution. It uses the fix ld-proven Alcatel-Lucent Operating System (AOS) to deliver highly available, secure, self-protective, easily managed and eco-friendly networks.
The OmniSwitch family is embedded with the latest technology innovations and offers maximum investment protection.
The following types of deployments benefit from the OmniSwitch family:
• Edge of small-to-mid-sized networks
• Branch office enterprise and campus workgroups
• Residential and commercially managed service applications
• Service provider network deployments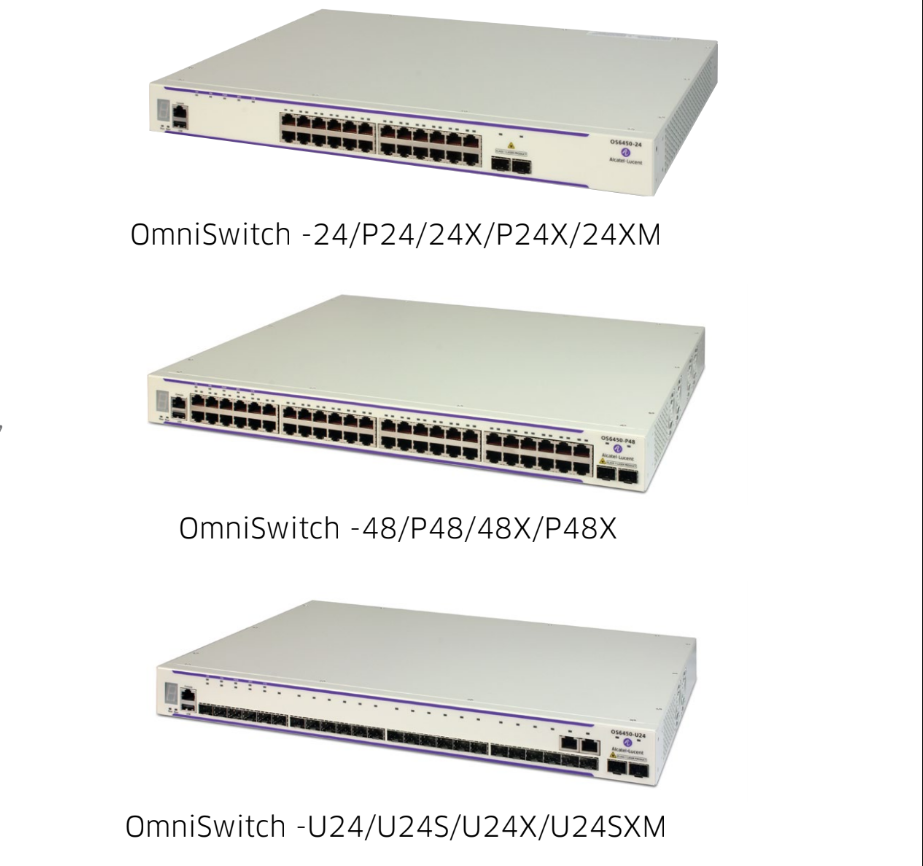 24-port and 48-port, Power over Ethernet (PoE), non-PoE, and 24-port fiber models with two fixed small form-factor pluggable (SFP+) 10-G-ready interfaces ("X" models) and 10G-ready interfaces
("non-X" models)
Scalability from 24 to 384 Fast Ethernet and gigabit ports with 16 10 GigE ports
Optional SFP+ stacking or uplink module
Optional 10 GigE uplink license option for "non-X" models
Optional metro services feature license on "non-M" models for service provider deployment
 Support for IEEE 802.3af as well as IEEE 802.3at-compliant PoE
Support for Precision Timing Protocol (PTP) through IEEE 1588v2 ("S" models only)
Internal AC or DC -redundant power supplies
EdgeMarc 2900e and 2900a POE
Deploying voice communications over the Internet can create quality and security issues that do not normally exist with traditional phone systems. To overcome these issues, Intelligent Edges are deployed on the customer network edge to ensure successful VoIP implementations. VoIP service providers deploy an Intelligent Edge in the form of an enterprise session border controller (ESBC) to improve voice quality and visibility into the customer environment, supporting both SIP trunking and hosted unified communications.
Edgewater Networks' EdgeMarc 2900e and 2900a Power over Ethernet (POE) Intelligent Edge devices are ideally suited for Hosted PBX applications that require POE functionality to power IP endpoints. This solution enables service providers to easily support locations with less than 12 phones with a single device (larger implementations can utilize external POE switches).
EdgeMarc Intelligent Edges scale according to user demands, allowing service providers to deliver high quality VoIP solutions to customers of all sizes and network configurations.
12 fully managed POE ports
Combined deployment of
EdgeView Service Control
Center and EdgeMarc
Intelligent Edge greatly
reduces operational expenses
and increases customer
satisfaction
Supports data rates up to 1
Gb/s and 300 concurrent calls
Cloud2Edge Complete capable